Are you looking for the perfect location for a memorable night out in Venice, Italy? We got you a list of the 6 most popular and fun cocktail bars, bars, and nightclubs in the floating city. The canalled city does offer a range of nightlife options. Here's our quick guide to Venice Nightlife and Bars. Due to covid emergency, we suggest you check the website for any updates.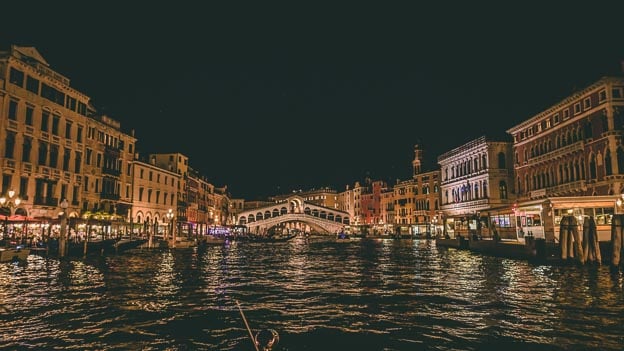 1. Venice Jazz Club
The Venice Jazz Club is an absolute must for every party lover visiting Venice. You will have a fabulous night at reasonable prices. Save your seat for the night and book a table in advance at Music Tick in Venice. The only Jazz Club in Venice offers live concerts every Monday, Tuesday, Wednesday, Friday, and Saturday, from 9 to 11 pm. If you like classic and modern jazz, Latin jazz, and bossa nova, the Venice Jazz Club is the perfect place for you. You can even get food before a concert until 8.00 pm. Enjoy a really fantastic night for a great price in Venice!
Address:
Dorsoduro 3102 | Ponte dei Pugni, S.Margherita, Venice, Italy
Contact:
+39 340 150 4985
www.venicejazzclub.weebly.com
2. Piccolo Mondo
Piccolo Mondo is the most famous nightclub in Venice, initially opened in 1963 as an Art Gallery. The place has transformed over the years into an original disco club: the perfect place to meet friends, enjoy good music, and dance the night away. The club is most popular with locals, students, and travelers. A few steps from Piazza San Marco, Piccolo Mondo is the only nightclub in Venice and is absolutely worth a visit if you want to spend a fun evening.
Address:
Accademia Dorsoduro, 1056/a, 30123 Venice, Italy
Contact:
+39 041 887 8154
www.facebook.com/piccolo.mondo.venice
3. Chet Bar
Chet Bar, a small bar that offers daily delicious cocktails and drinks for young and cheerful party people. Throughout the day you can also enjoy a nice cup of coffee, small sandwiches, or sweet pastries here, but at night it turns into one of the best party addresses in Venice. The prices are super affordable for Venetian circumstances and the staff is extremely nice. Enjoy the easy-going atmosphere and try one of their 2 euros Spritz.
Address:
Sestiere Dorsoduro 3684 | Campo Santa Margherita, 30123 Venice, Italy
Contact:
+39 320 703 9533
www.facebook.com/chetcocktailbar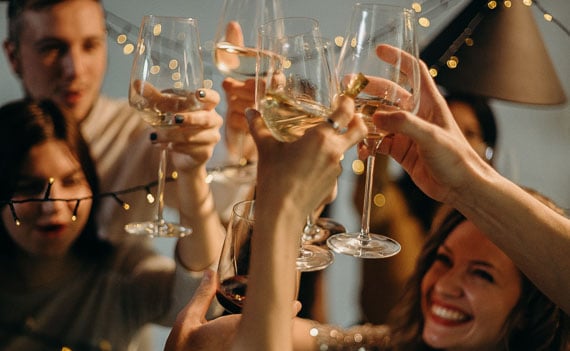 4. AquAlta
The trendy modern furnished Bar AquAlta, is the place where the trendsetter and fashion community of Venice comes together. Interesting, modern hipster people enjoy their drinks in a very contemporary location. Are you looking for a nice glass of Prosecco or nice aperitifs combined with small delicious snacks? The AquAlta is the perfect location to start off with a good night out or for after work drinks.
Address:
Piazza 27 Ottobre, 37, 30174 Mestre Venice, Italy
Contact:
+39 041 972208
www.facebook.com/aqualtapiazzabarche
5. Café Noir
The Café Noir, is one of the best pre – clubs in Venice with an amazing selection of drinks at reasonable prices. You can come here for pre party drinks or simply to hang out and chat with friends. Pre drinks are as important as after hours to complement a perfect night out. The so called "Café" gets packed when the clock approaches midnight. Expect to meet a lot of locals, students, and creative individuals, as this place is very popular amongst them.
Address:
Sestiere Dorsoduro 3805, 30123 Venice, Italy
Contact:
+39 041 200 7893
www.facebook.com/cafenoirvenezia
6. Aurora Beach Club
The Aurora Beach Club is a little bit further outside the city center of Venice, directly located on the beach. Especially in the warmer months is this beach club the number one address for an unforgettable night out, enjoy colorful lighting effects, popular DJs, large white loungers, and fruity cocktails all added to the light beachy atmosphere. A great location at any time – during the day to soak up the sun, at sunset to enjoy a relaxing drink, or late at night for dancing under the stars.
Address:
Lungomare Gabriele D'Annunzio, 30126 Lido, Venice, Italy
Contact:
+39 340 813 2984
www.facebook.com/aurorabeachvenezia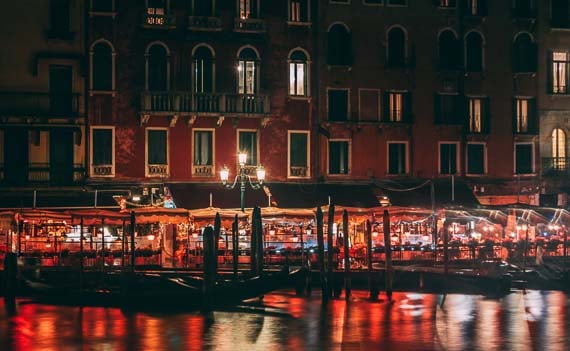 If you enjoyed your weekend and night out in Venice and you would like to bring home a little souvenir, we have the solution! There is no better souvenir than a handmade artwork of Murano glass, the delicate artistry that goes back to a century-old Venetian glass blowing tradition.
Unfortunately, it is difficult to verify the authenticity of the pieces sold in the shops in Venice. That is why we created our website which features certified Murano glass artworks. We ship internationally, so you don't have to worry about meticulously transporting your glass back home. Impress your friends and family with a unique and luxurious piece of art that is true to Murano. Enjoy the exclusive online collection at MuranoGlassItaly.com