Venice is not only a beautiful city, but also serves delicious Italian cuisine. There is no shortage of sophisticated dining rooms or restaurants with incredible views. Are you looking for a special location for a luxurious dinner? We are here to help you with a list of the 5 best restaurants in Venice where you can enjoy the traditional cuisine. Due to Covid, we suggest you to contact the restaurant and book your table in advance.
1. Met Restaurant
Delicate and light-flavored dishes, devoted to nature and to the alternation of the seasons. The Met Restaurant is the only restaurant in Venice and one of two restaurants worldwide, which got awarded with two Michelin Stars for its excellent cuisine. It is located in the Metropole Hotel near the Piazza San Marco and is reachable with a boat taxi. During summer, it is also possible to have lunch or dinner outside, in the lush garden of the Metropole hotel.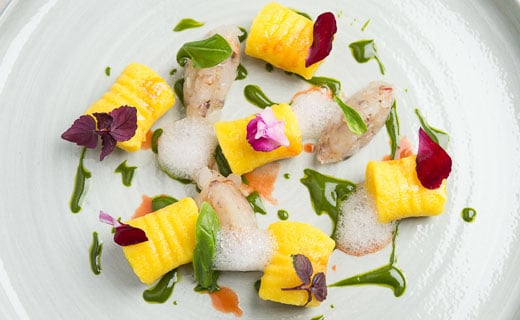 Opening hours:
The restaurant is temporary closed due to Covid, however it is possible to contact the restaurant to organize private events.
Address:
Riva degli Schiavoni 4149
30122 Venice, Italy
2. L'Alcova Restaurant at Ca' Sagredo
The hotel Ca' Sagredo has not only a rooftop bar with an incredible view over Venice, but also a high class, 5-star restaurant. Located at the Grand Canal near the Rialto bridge, the chefs enchant their guest with outstanding meals and traditional Italian cuisine with a modern twist. The L'Alcova Restaurant at Ca' Sagredo Hotel serves besides a dreamy view and venetian delicatessen, excellent wine and a perfect customer service. Even if you just go for lunch or a so called Aperitivo, the L'Alcova is a great place to escape the busy crowds of Venice and enjoy a little private break.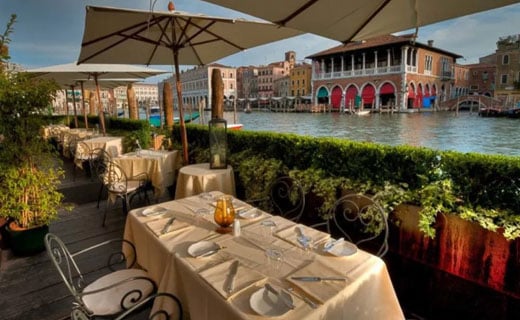 Opening hours:
Every day from 12:00pm to 2:00pm and from 7:00pm to 10:00pm.
Address:
Campo Santa Sofia Cannaregio 4198/99 – Ca D'Oro
30121 Venice, Italy
3. Restaurant Terrazza Danieli
Restaurant Terrazza Danieli is one of Venice's top restaurants and dining locations. It is located near the Palazzo Ducale, on the top floor of the Hotel Danieli. The restaurant caters both indoor and outdoor on the terrace with a panoramic view. Venice can be admired all year round through the restaurant's large windows, while outdoor seating is available from May until September. The menu offers an endless variety of temptations from classic Venetian dishes to exotic flavors from the Far East. The perfect place to enjoy the views of Venice lagoon, romantic sunsets over the Grand Canal and a fabulous meal.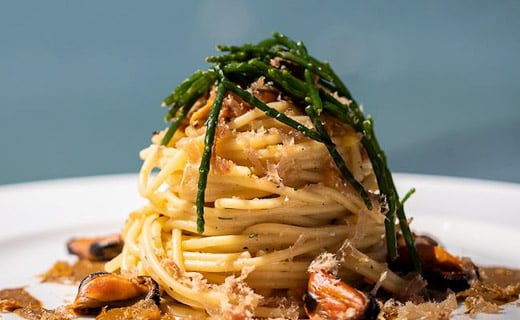 Opening hours:
Lunch 12.00pm – 3.00pm
Dinner 7.00pm – 10.30pm
Bar Dandolo 9.30am – 1.00am
Bar Terrazza (May-September) 3.00pm – 23.30pm
Address:
Riva degli Schiavoni
30122 Venice, Italy
4. De Pisis
De Pisis Restaurant offers an elegant, intimate and romantic atmosphere with a breathtaking view of the Grand Canal and the church of Santa Maria Della Salute. The chef creates perfect connections between the best Venetian cuisine and Mediterranean flavors. With its creative cuisine with cultural accents, De Pisis Restaurant is the choice of excellence for an authentic dining experience. The place where to embrace the pleasure of an unforgettable culinary journey, with a charming terrace overlooking the Grand Canal and the Church of Santa Maria Della Salute.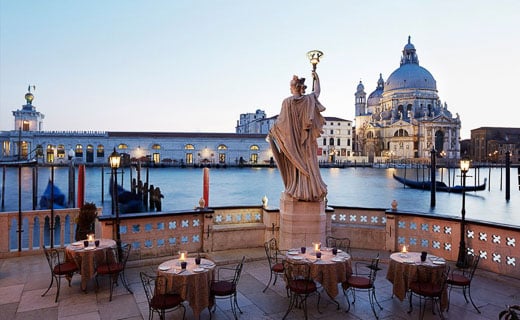 Opening hours:
Every day from 12.00pm to 03.00pm and from 07.00 pm to 10.30pm
Address:
San Marco 1413/d
30124 Venice, Italy
5. Fiola at Dopolavoro Restaurant

Outstanding food with a beautiful presentation and an impeccable service. Wonderful modern take on Italian cuisine matched with local Italian wines in the Dopolavoro Restaurant. The restaurant is located on a private island, Isola delle Rose inside the JW Marriott Venice Resort & Spa and it has been awarded with a Michelin star just six months after opening. The chef, combining tradition and innovation, cooks real culinary masterpieces. The restaurant is the perfect place to head to after a day in Venice or after a long soak in the pleasures of the Resort's spa.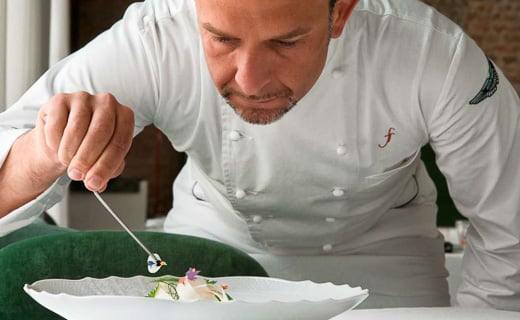 Opening hours:
Reopening on 1st July 2021.
Open on Monday, Tuesday and from Thursday till Sunday 6.30pm – 10.30pm
Address:
Isola delle Rose, Laguna di San Marco
30133 Laguna di San Marco, Venice, Italy
Now you know where you can enjoy exquisite Italian cuisine with an incredible ambience in Venice, Italy. To complete your experience and remember the magical trip to the wonderful lagoon of Venice you need to take a souvenir. There is no better souvenir as a handmade artwork of Murano glass, created according to the century-old glassblowing tradition that made Murano famous all over the world. Unfortunately, it is difficult to verify the authenticity of the pieces sold in the shops in Venice. For this reason, we at MuranoGlassItaly created our website where you can find certified Murano glass artworks. We ship internationally, so you don't have to worry about transporting your glass back home. Impress your friends and family with a unique and luxurious piece of art that is true to Murano. Enjoy the exclusive online collection at MuranoGlassItaly.com