Glass decoration, good service, breathtaking atmosphere and, of course delicious drinks! Venice bars serve it all. If you are a cocktail lover, coffee drinker or looking for a delicate glass of wine combined with Italian food, we have the perfect places for you! We highly recommend to choose a bar from our list below to enjoy a nice drink in the world known and unique city Venice, Italy. The opening hours indicated may change due to Covid Emergency, therefore we suggest you to check the website and book your place.
1. Most famous Harry's Bar
This bar is synonymous with Venice and known for the invention of the equally famous drink called Bellini. Founded in 1931, Harry's Bar has hosted many important personalities, such as painters, writers, kings and queens, becoming famous all over the world. The success of the restaurant is also due to the excellent quality and friendliness of the service, as well as an extraordinary range of beers, wines, spirits and cocktails. Declared part of Italy's national heritage in 2001, Harry's Bar is absolutely worth a visit.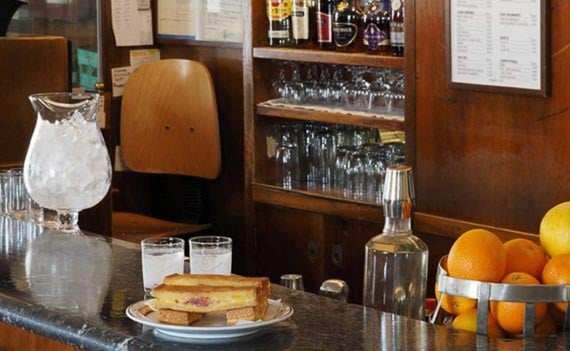 2. Wine Bar 5000
The Wine Bar 5000 is the real local experience every tourist hopes for. A very small but cozy wine bar. It is a rather hidden and quiet place, so lovely to go for a pre-dinner drink by the canal in a very romantic atmosphere. The service is attentive and the price are reasonable for venetian circumstances. So, if you want a tasty local wine, order a bottle here.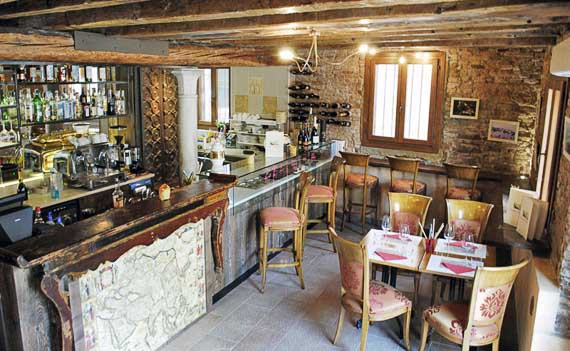 Address:
Fondamenta San Severo, 5000,
30122 Venice, Italy
Opening hours:
Opened on Friday, Saturday and Sunday from 10:00 am to 6:00 pm
Contact:
+39 041 520 1557
www.facebook.com/WineBar5000/
3. Time Social Bar
The TiME Social Bar is a charming place with a menu of excellent cocktails, craft beers and quality wines. The bar was born with the idea of creating a place where guests can feel at home and have a good time, sipping a good cocktail. The bar also offers typical Italian cicchetti, made with local ingredients. Friendliness and professionalism characterize the TiME Social bar, perfect for taking a break during your visit to Venice!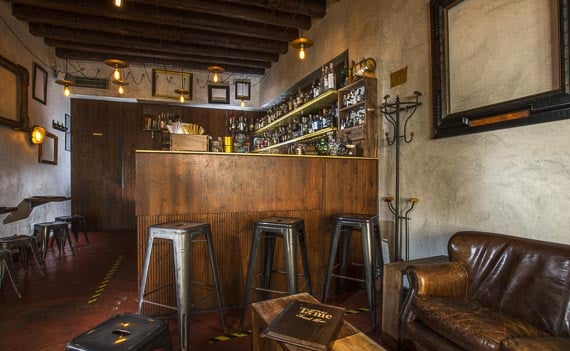 Address:
Cannaregio 1414,
30121 Venice, Italy
Opening hours:
Monday to Friday from 3:00pm to 2:00am
Saturday from 11:30pm to 2:00am
Sunday from 17:00pm to 2:00am
Contact:
+39 338 363 6951
www.timesocialbar.it
4. Skyline Rooftop Bar
The Skyline Rooftop Bar at the top of the Hilton Molino Stucky, with an outside terrace view that stretches across whole Venice and the southern lagoon. It is necessary to book the table in order to access one of the most exclusive locations in Venice. A magical evening on the highest terrace in the city where you can admire the sunset over the lagoon city while listening to music and sipping a delicious cocktail.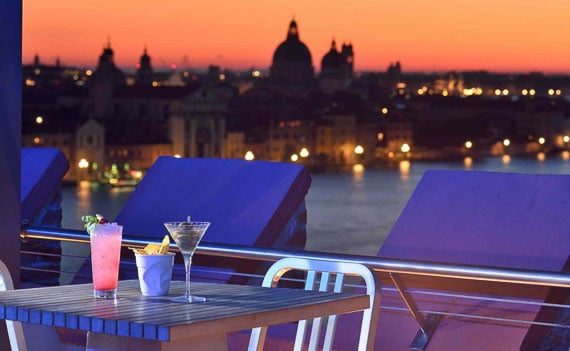 Address:
Giudecca 810,
30133 Venice, Italy
Getting there: Vaporetto stop Palanca or Sacca Fisola
Opening Hours:
Opened on Friday, Saturday and Sunday from 4:00pm to 10:00pm
Contact:
+39 041 272 3316
www.skylinebarvenice.it
5. L'Ombra del Leone

Would you like to enjoy an Aperitivo overlooking the lagoon but you don't want to spend too much? L'Ombra del Leone is the place you are looking for! Located on the ground floor of Ca' Giustinian, the bar and restaurant offers fantastic views of the Grand Canal. Here, aperitifs, spritz and Italian wines are served, as well as various Venetian snacks prepared by local chefs. The ideal place to relax and enjoy Italian good food and good wine!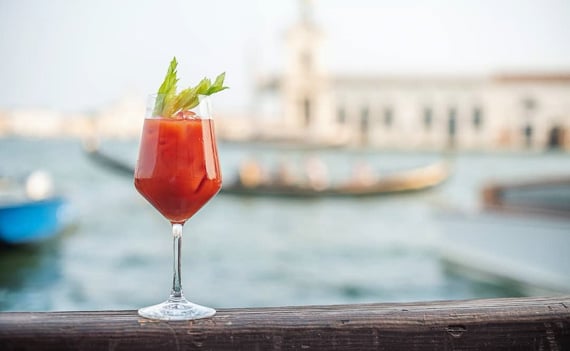 Address:
San Marco 1364a,
30124 Venice Italy
Getting there: Vaporetto stop San Marco – Vallaresso
Opening Hours:
Daily from 9:00am to 11:00pm
Contact:
+39 041 241 3519
www.ombradelleone.com
6. Bar Longhi

The perfect location to sip a delicious Bellini in an elegant and refined setting. The bar is decorated with splendid 18th-century paintings, created by the Venetian artist to whom the bar owes its name. Outside there are tables on the terrace overlooking the Grand Canal, where you can admire one of the most beautiful views in the world. Take a break in one of the most sophisticated and elegant bars in the lagoon.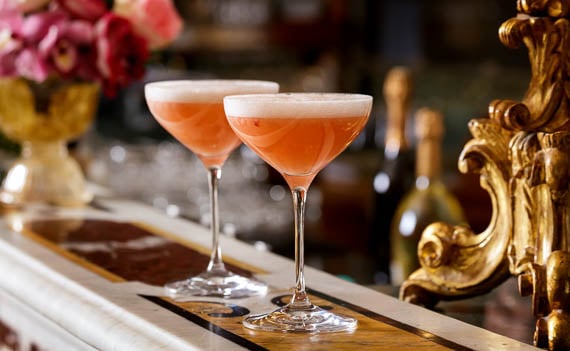 Address:
Campiello Traghetto, 2647,
30100 Venice, Italy
Opening Hours:
From 11:00am to 1:00am
Contact:
+39 041 794611
www.marriott.com
Little Extra – Rivalonga Bar + Lounge
There is no better way to end the day than with a Spritz, local finger food and some canals views. The Rivalolonga Bar is the perfect place, located in the island of Murano, and far from the crowds of Venice, where having a cocktail while overlooking the Lagoon.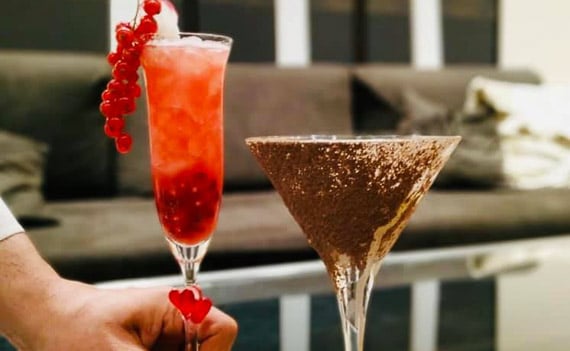 Address:
Hyatt Centric Murano Venice, Riva Longa 49, 1,
30141 Murano, Venice Italy
Opening hours:
Daily from 07.30 am to 10.30 pm
Contact:
+39 041 273 1234
www.facebook.com/Rivalongabarlounge
The island of Murano in the lagoon of Venice is known for its century-old Venetian glass blowing tradition and is the origin of all the delicate glass artwork.
If you visit Murano during your stay in Venice and you enjoy the Aperitivo you can bring home a very special souvenir, as the famous glasses made of Murano Glass.